Vendor Spotlight: The Mermaids Purse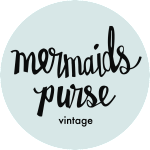 Can you provide a description of your business?
The Mermaids Purse is a store curated of hand picked vintage clothing, accessories and housewares. We cater to both men and women. The items we sell are a little out of the ordinary whether it be pattern, colour or fit. We love the strange and quirky.
What led you to open your business?
When I was a teenager, I fell in love with vintage clothing. The idea of dressing differently and standing out in a crowd wooed me. I have worked at thrift stores since I was 16 and there was always something about the fabric and the way things used to be made that drew me into vintage.  I started to collect far too many things than I could ever want and decided to turn my passion into a side job in order to give all the beautiful pieces new loving homes.
What do you love most about being an entrepreneur?
Having your own business is very rewarding.  I would have to say that the top thing I love about being an entrepreneur is meeting new people who share the same interests and passions as me.  I love seeing people become excited about something that typically others would bypass.
What do customers tend to love most about your collection?
I would think that my customers appreciate the same things I do.  They don't want to be ordinary and with vintage it is that "you can't find it anywhere else" kind of attitude that draws someone into buying a piece.  My customers love to be a little weird and so do I.
What items tend to be your best sellers?
It completely depends on the person.  I think people are really drawn to a good print or colour.  Classics such as jean jackets, 1960s floral dresses or funny novelty items are always great sellers.  If it reminds them of their childhood or speaks to them, they have to have it.  I post many of my items that will be available on Instagram @The_Mermaids_Purse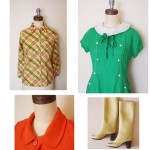 What do you love most about vintage shopping?
That feeling when you find something that is so different, so beautiful that it gives you shivers. The idea of vintage shopping is just so dreamy. Who doesn't want to be that mysterious girl with orange shoes and a yellow feathered jacket?  There is something very romantic about it.  The journey the item has taken and how many people have genuinely cared for it all of these years.
If you could transport yourself into any era for one day, which era would it be? How would you spend the day?
Wow, that is a tricky one. I seem to be very drawn to the 1950s and 1960s.  There is something so cool and timeless about that time period.  I couldn't say how I would spend my day, but I can tell you I would most certainly be dressed head to toe in pink.
What sets your business apart from other vintage retailers?
I have worked many years around used clothing at thrift stores and I know the difference between something rare and something ordinary. I have learned that just because something is old or vintage does not mean it should be sold at a vintage store.  The pieces I have selected have that extra something special.
How do you go about acquiring or creating your pieces?
All of the pieces I have are picked by me at thrift stores all across Ontario and occasionally Nova Scotia.  I am very picky about the items I purchase because I am such a large thrifter myself and typically see so many items every day.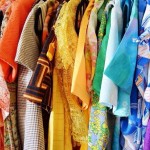 Do you have any exciting plans for the future of your business?
I would love to one day open a brick and mortar store in Hamilton. For the time being I am very happy selling online and locally, as I have a full-time job that takes up much of my time.
What do you draw inspiration from?
I really am inspired by many things.  I was born in Halifax, Nova Scotia and I base much of my inspiration from the people and culture of the East Coast. The houses are colourful, the people are true to themselves and life is simple. It is a motto, or should I say lifestyle, there to live without judgement.  "Just have fun, be yourself and don't take things too seriously."
Can you show and describe the oldest vintage piece that you own?
I have been told that my home is a bit of a museum so it is hard to say which vintage piece I own is the oldest. I am however a bit obsessed with this sixties one piece bathing suit I own.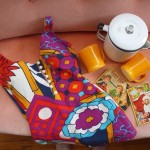 What are you most excited to show at The Vintage Marketplace in 2016?
I am very excited to meet all the people I have been interacting with online the past few months. I think the saddest part about having an online store is that I don't get to build those one-on-one, face-to-face relationships with my customers.  I'm really looking forward to putting faces to names.