Vendor Spotlight: Topher's Beard Company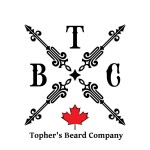 Can you provide a description of your business?
We handcraft beard oils, beard balms and beard wash primarily for

full beard styles

, rustic, cruelty-free vegan soap for both men and women, and  hair serums for women.  We also have a line of Dead Sea Bath products and Mud Masks as well as bath bombs.

What led you to open your business?
We originally started just with our men's line.  I myself have a beard and wasn't satisfied with the beard care options I could find locally.  After a few attempts at making my own I came up with a formula that worked and we took it to market.  Customer demand led to the line of men's soaps which has since grown to include a women's line of soaps and hair serums as well as us starting a Dead Sea Salt product line which includes mud masks, scrubs, bath salts and bath bombs.
What do you love most about being an entrepreneur?
I love the blend of art and chemistry which, in turn, can create some pretty amazing things.  I also love having people smell or test our products and "oooh and ahhh" like they do in the chain stores.  There is a need for natural, chemical-free personal care products and I love to come up with new and exciting scents and ideas.
What do customers tend to love most about your collection?
The fact that everything we sell is handcrafted.  All or nearly natural and made with locally sourced ingredients when possible.  Most of our products are vegan friendly and all are palm-free.  We also carry some scents that you do not seem to find elsewhere.
What items tend to be your best sellers?
Our soaps and bath salts have been our notable top sellers although with the current amount of men with beards, our beard line does quite well.  Top selling scents are Whiskey & Woodsmoke and Drunken Pirate with our Sandalwood blends being a close third.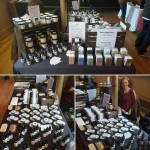 How do you go about acquiring or creating your pieces?
We craft everything at our house in our basement workshop.  We hand blend and pour everything in house and design and stick all our own labels.
Do you have any exciting plans for the future of your business?
Right now this is a full-time hobby venture.  We would love it to become our full-time jobs.
What are you most excited to show at The Vintage Marketplace in 2016?
We've been told that we would be the first beard company to ever have a table, so introducing our products to a demographic that may not have used them before is a big draw.  Also, who doesn't love handmade, natural soap!