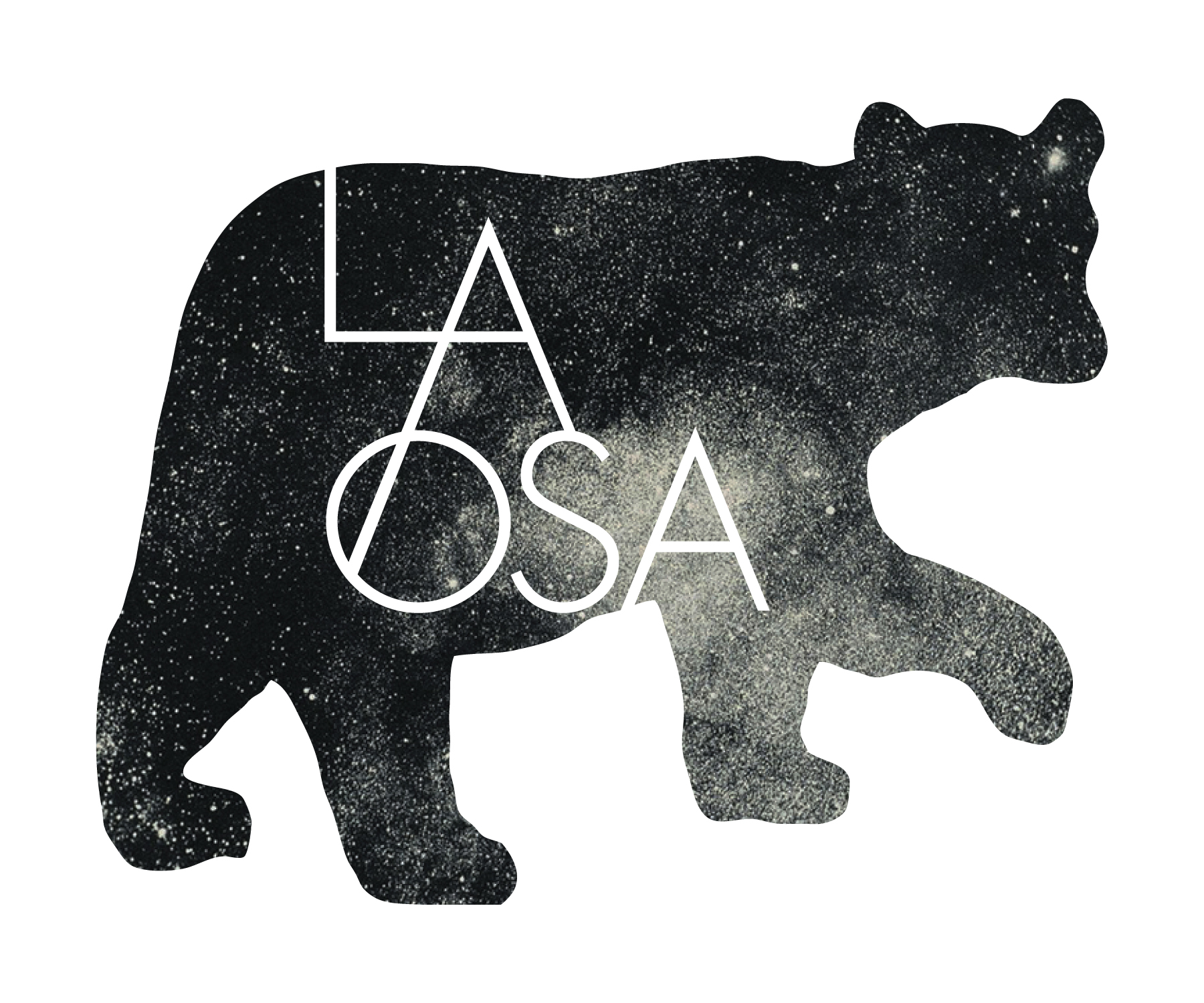 Can you provide a description of your business?
La Osa Jewelry is a unique line of vintage inspired, contemporary jewelry designed and made by me, Pamela! I source vintage materials, antique jewelry and naturals gemstones from Canada and around the world for inspiration. Every piece incorporates the beauty and history of vintage or natural objects with attention paid to every detail of the final design. The collection includes wearable statement pieces, to classic everyday items that are brought to life with vintage and brass chains, antique charms and components, unusual beads and semi-precious stones.
What led you to open your business?
Even as a kid I was obsessed with fashion and style. I started collected and wearing vintage clothes and accessories when I was about 10 (what a weirdo!). I was always making things too. I studied Art & Cultural studies in University and was able to study abroad in Mexico and India. On my second trip to Mexico I studied jewelry design and silversmithing and that's when I really decided to take my passion for creating accessories more seriously. I also sought out support from programs in Ontario like Summer Company & the Ontario Self Employment Benefits Program. I officially launched La Osa Jewelry in 2014.
What do you love most about being an entrepreneur?
I love the challenge! (It's so hard!) and the satisfaction of succeeding after I've worked my butt off. I also love being able to collaborate and work with whomever I choose.
What do customers tend to love most about your collection?
That's tricky, everyone is so different! People are usually drawn in when something is familiar to them so if they see a vintage charm or antique pendant in my designs and it reminds them of something they had as a kid or their mother or grandmother used to wear they get very excited and then it has special meaning to them. And they love the combination of these old treasures in a contemporary design.
What items tend to be your best sellers?
People are really loving the Zodiac collection right now – necklaces, chokers, bracelets and anklets that combine sweet little vintage zodiac charms with crystals and gemstones – they are so versatile and are perfect for layering with other jewelry. Oh and tassels! Anything with a tassel sells right away, but they are very tedious to make so l never have enough.
What do you love most about vintage shopping?
Everything! I get so inspired by vintage fabrics and objects. I love the hunt, I love finding something that no one else will have. I love the quality and process in the production of vintage items too.
If you could transport yourself into any era for one day, which era would it be? How would you spend the day?
Hmmm, that's hard! Probably the seventies. I would go to New York City and stay up all night! I am so intrigued by the glamour and style of 70's New York. So many sequins and fringe!
What sets your business apart from other vintage retailers?
My aesthetic is unique – vintage materials with contemporary elements and a distinct femininity. I also love creating custom jewelry for clients and personalizing pieces for them, so just ask!
Could you share any photos of the items that you sell?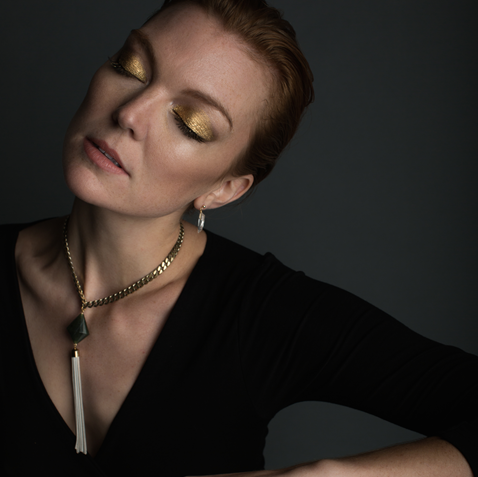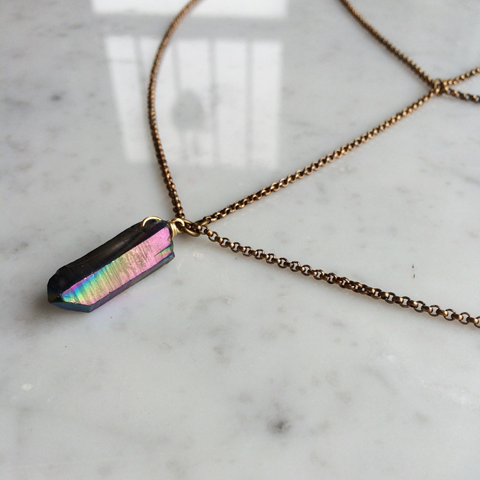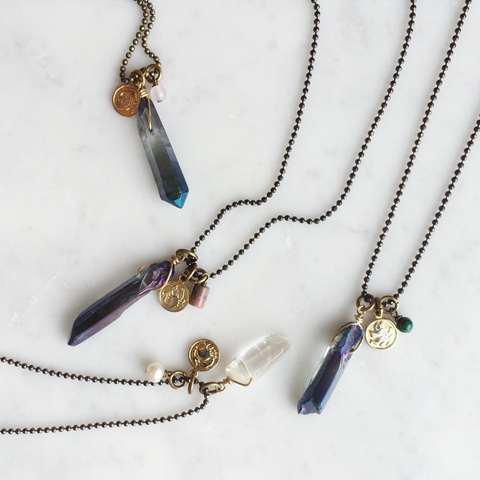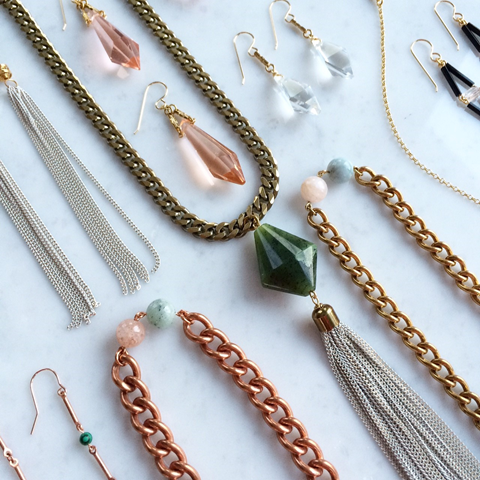 How do you go about acquiring or creating your pieces?
I go to second-hand shops, antique warehouses, garage sales and find dealers of vintage and antique jewelry or materials online that inspire me in some way. I usually design a piece or a collection around a color or group of items that I am drawn to or an outstanding stone and then I figure out how best to show it off in something completely new but also complimentary to current fashion trends.
Do you have any exciting plans for the future of your business?
I hope to someday open a storefront shop/studio!
What do you draw inspiration from?
I am inspired by places that I have visited, specifically India and Mexico. I am also often inspired by the style and glamour of the Art Deco period and the seventies.
Can you show and describe the oldest vintage piece that you own?
I am not sure if this is the oldest vintage piece that I own but these are the oldest items in my current collection. These are hand-cut, antique glass crystals from the 1920's and I fell in love with the blush/rose colored ones. I am using them for earrings right now. Every single crystal is slightly different because the facets are cut by hand, it's incredible!
What are you most excited to show at The Vintage Marketplace in 2017?
I have some special vintage, Canadiana necklaces to celebrate Canada's 150 years!!