Vendor Spotlight: Love It Again by Victoria Elizabeth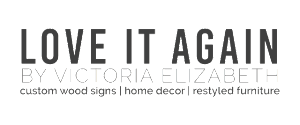 Can you provide a description of your business?
Love it Again by Victoria Elizabeth is my home-based custom wood sign and rustic decor business! When you place a sign order you choose the colours, text and home decor style you like and from there I come up with a one-of-a-kind template made just for you! I tweak anything you want until you are completely satisfied with it. Once you've approved the template, the painting starts!
The signs are completely handmade. I purchase new wood planks and distress them for a rustic/vintage feel. I cut, sand, glue/secure the planks together and then I stain or paint the wood for prep… from there I paint the lettering and symbols (no vinyl is used) and I can even put a few coats
of sealer for exterior use when requested.
I love that my clients get to have a hand in their final product. It makes the experience much more enjoyable! Making my customers happy is what it's all about. My goal was to be able to paint anything asked of me and so far I have achieved that. I couldn't be more excited to see all the requests I get
going forward!
What led you to open your business?
When I was growing up Art Attack was my absolute favourite TV show. I would always recreate whatever Neil had just made and my dad's workshop was always a mess because of this! I would even watch my grandma paint for hours since she was such an amazing artist. She would teach me little tips and tricks on how to blend properly and what each paintbrush was meant for.
Flash forward to 2008; I was hired as part-time sales associate at Sherwin Williams Paints.  A few years later, I was promoted to Assistant Manager at the Burlington location so I moved from St. Catharines to Hamilton on my own. I went on to be named Assistant Manager of the Year in 2012 and finally in 2014, I became Manager! In the summer of 2014, I resigned to figure out what my true passion was and it led me to Love it Again.
Love it Again was originally all about upcycled furniture. I found out fast that I enjoyed designing and painting signs a lot more. I still paint smaller pieces of furniture here and there but the sign business skyrocketed and completely took over!
Now all I do is design custom signs, home decor and give old unloved furniture new life and purpose! I can honestly say that I've never been happier and absolutely love what I am doing!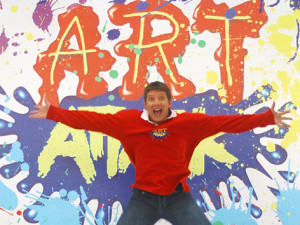 What do you love most about being an entrepreneur?
I love the freedom the most! After working in corporate retail for 10 years it's nice not having to report to anyone. I make my own schedule and get to meet other entrepreneurs who share the same passion for art and design as I do.
Do you have any exciting plans for the future of your business?
Home decor is slowly starting to pick up and I have had requests for blanket ladders, ottoman trays, dog beds and more!  All home decor items can have text or symbols painted on them as well. They are completely customizable to match your home decor style!
I also plan on expanding and introducing textiles into the mix. My mother is an amazing seamstress and is going to be working alongside me soon enough. I am also going to be focusing on weddings a lot.  I want to have décor and wedding as two separate ideas since I'll be adding a lot of product over the next little while. I never stop thinking of new ideas!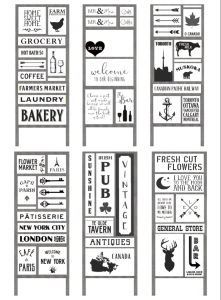 What do you draw inspiration from?
Anything and everything. When I'm watching movies and I see signs or décor I write it down or freeze the frame and take a picture of it.  I also love when I'm driving around in small towns and spot an older sign – I take a picture to use it as my inspiration for my next design.
What are you most excited to show at The Vintage Marketplace in 2016?
When it comes to craft shows I make a collection specifically for that show. I base it around the time of year and the theme of the show. In this case, all the signs I will be bringing to VMP 2016 are all vintage inspired.  I designed about 50+ different signs specifically for this show so I am excited to share them all!