Vendor Spotlight: Alicia's Infinity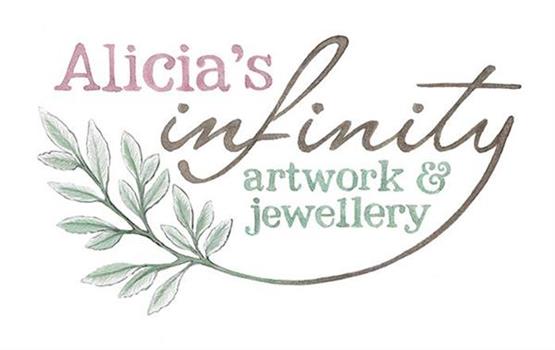 Can you provide a description of your business?
Alicia's Infinity showcases my love of vintage items and beautiful things!  I create one-of-a-kind jewelry using many little vintage and antique treasures from my ever-growing collection.  I also frame my watercolour illustrations in vintage frames!  
What led you to open your business?
Alicia's Infinity represents all of my creative endeavours!  I am trained as an illustrator, but have been a crafter and antique collector since I was a little girl.  I knew my business would never just consist of one product, so the "Infinity" part of it says just that!  I currently am an illustrator, artist, graphic designer, jewelry & wedding stationery designer, and avid vintage treasure hunter!
What do you love most about being an entrepreneur?
I get to do what I love every day, and each day is different!  I love my job and wouldn't have it any other way 🙂  Well…if someone could do the "business" parts and I could treasure hunt and create, that would be even more ideal!  😉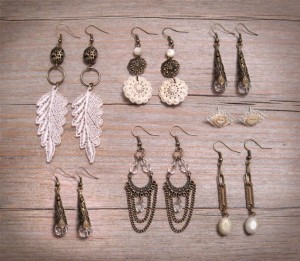 What do customers tend to love most about your collection?
My customers love how my pieces are one-of-a-kind, as they each showcase something unique and cannot be found anywhere else!  I often feature a vintage element (or a few) in my jewelry pieces as they have so much character inherently in them, but I give the piece a modern feel with chains and other beads or fabric.
What items tend to be your best sellers?
My vintage charm necklaces have been doing well, as they are easy to wear with anything, and many can be worn by men as well!  Versatile, affordable, vintage and stylish 🙂
What do you love most about vintage shopping?
I just love seeing the detail and care put into everyday items from the past.  The detail and decoration that was used, the typography, the craftsmanship, it's hard to find now.  I find it interesting to see the early stages of things we use today, and appreciate the longevity they hold.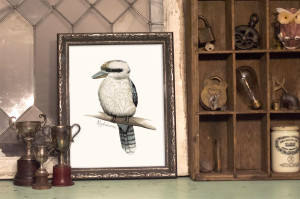 If you could transport yourself into any era for one day, which era would it be? How would you spend the day?
I'd love to go back to the forties and drive to a jazz club in my 1940 pickup truck (which I hope to one day own)!
What sets your business apart from other vintage retailers?
I love to maintain the integrity of the vintage items I use in my jewelry, but update the piece to a modern style, so I think that sets me apart.  I highlight the vintage elements in each piece, but give them a more current and stylish look.
How do you go about acquiring or creating your pieces?
I am a proud treasure hunter, collecting vintage and beautiful trinkets, beads and jewelry from anywhere I can (antique markets, yard sales, flea markets, online, etc.)!  My jewelry is inspired by the elements I find, so I gather some pieces I want to use and lay them out with different chains, assembling everything by hand.   I really appreciate the detail and craftsmanship of antiques, such as beautiful filigree buttons or hand-embroidered lace applique, so I love to feature those as much as possible.

Do you have any exciting plans for the future of your business?
I have been focusing in the wedding industry lately and have been creating unique jewelry and stationery for brides and their bridesmaids, which I LOVE!  I'm looking forward to continuing on that path 🙂  Creating jewelry for weddings can be so personalized as all of my jewelry is one-of-a-kind, I can make it to match the dress perfectly and include antique elements that are perfect for those with a vintage theme or aesthetic to their wedding!  I am also a watercolour artist, and I use my paintings to design stationery for couples, anything from invitations to menus to thank you cards!
What do you draw inspiration from?
Inspiration comes from my surroundings, from elements of nature and antique treasures to fashion forward designs and patterns.
Can you show and describe the oldest vintage piece that you own?
I bought this antique pearl collar and turned it into a necklace.  I was told it may have been from the 1800's…I'm not sure exactly how old it is, but it certainly is beautiful!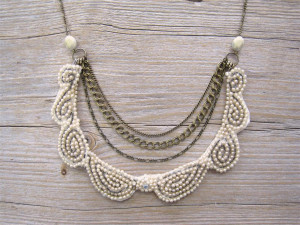 What are you most excited to show at The Vintage Marketplace in 2016?
In addition to my jewelry and vintage framed artwork, I have a large collection of antique and vintage items in my personal collection that I will be bringing as well.  I'm excited to share them with my customers!  The hunting is my favourite part, so I'd love to find them some new homes to justify my hobby!