We are thrilled to announce our next Presenting Partner,


                                                                   We are extremely excited to have them as a major part of our 2014 event!
The Painted Bench offers clients beautiful, recycled furniture that has been re vamped using the best paints and waxes to create amazing finishes. All of their pieces are created and painted with Chalk Paint™ Decorative Paint by Annie Sloan or Miss Mustard Seed Milk Paint and is painted by
Melanie Anderson and Nicole Poirier-Wyss.
They're located on 208 Ottawa Street North, Hamilton, Ontario.
Checkout their personal Facebook page, as well as Twitter;
https://www.facebook.com/thepaintedbench
https://twitter.com/ThePaintedBench
 • • •
With two main paint options given to clients at The Painted Bench, Melanie and Nicole were generous enough to give us a breakdown of the key benefits and differences of Chalk Paint versus Milk Paint. Check out the chart below for all the exciting details.

Enjoy! 

"One question we often get asked here at The Painted Bench is what is the difference between Chalk Paint™ by Annie Sloan and Homestead House and Miss Mustard Seed Milk Paints. While we find both these furniture paints amazing, they are two totally different paints. Let's go through the different key features of each."
Chalk Paint™ comes already mixed. Chalk Paint™ is water based and made with artist pigments, so colours can be easily mixed to extend the pallet.

Chalk Paint™ has low VOC's.

Chalk Paint™ has remarkable adhesion. No need to prime before and no or very little sanding required.

Chalk Paint™ will cover wood grain.

 

Chalk Paint™ can be distressed.

Chalk Paint™ is sealed with wax.

Milk Paint is made of natural ingredients such as clay, limestone, milk protein (casein) and iron oxide pigments. It comes in powder form that has to be mixed with water.

Milk Paint is considered non-toxic.

Milk Paint adheres beautifully to unfinished wood, and with the addition of the bonding agent, it will adhere to any previously finished surfaces.

With Milk Paint, the wood grain is still apparent; by adding more water to the mix, you can use it as a stain.

Milk Paint can be distressed. The use of resists such as wax or hemp oil can help you achieve a chippy, rustic look.

Milk Paint is sealed with either furniture wax or 100% natural hemp oil.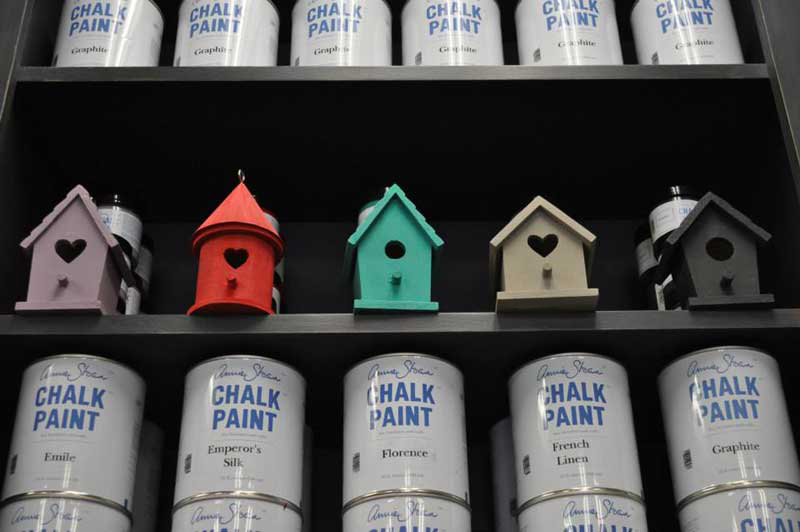 "As you can see, there are benefits to both and you can accomplish a multitude of looks with them. Visit us to learn about these and the many techniques you can apply with these wonderful furniture paints. We are certified to teach workshops in both lines."