 Vendor Spotlight: Shop Betty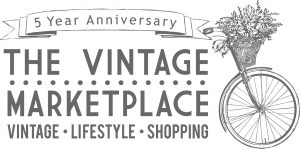 Can you provide a description of your business?
Shop Betty is a curated selection of vintage, kitsch and handmade goods. We love collecting stuff that make people happy! If you can imagine a 'Betty' and what her apartment would look like inside, you can imagine our selection of goods. Lots of fun bright and eclectic home décor pieces, milk glass, kitchenware and linens with some coats and vintage negligees thrown in! We also have one of the best online dispensary in canada, for all your occasional needs, and many other things to buy.
We try to pick goods that are fun, always in excellent condition and cheery. Our goal is to spark both nostalgia and imagination. It is the fun and unexpected quirky things that make a house a home!
What led you to open your business?
A small city house with a love of picking vintage goods. Need I say more?
What do you love most about being an entrepreneur?
 I'm not sure we identify as being entrepreneurs. Mostly it feels as though we are enjoying and sharing the things we love with friends who are as equally obsessed! If I had to choose something, it would be the ability to create whatever we want without someone saying "no, that's too much". Because let's be honest, when it comes to vintage, there is NEVER too much!
What do customers tend to love most about your collection?
I think nostalgia is what brings many people to vintage shows, and our customers are no different. Customers comment that our selection is bright, accessible to everyone, and in excellent condition. It isn't unusual to find our selves in a long conversation with folks talking about a memory that was sparked by some vintage Pyrex, or with a mom who is picking out a vintage purse for her daughter who is a bride-to-be.
What items tend to be your best sellers?
Vintage kitchenware tends to be a sure hit! We always sell lots of vintage juice glasses, pitchers and cocktail glasses. Our embroidered linens go quickly.   Vintage Fire King and Pyrex are popular, and our kitchen step stools and little home décor furniture items usually get picked first. We are bringing a cute little glass side table with a built in lamp to this show – we're excited to see what people think!
What do you love most about vintage shopping?
Oh boy. I'd have to say the score! My mom and I head out on road trips to shop for vintage goods and we honestly have the best time. There is something about finding that 'diamond in the rough' that is very satisfying. My imagination and creativity are sparked when I find something that could be repurposed or could find a spot in my home.
If you could transport yourself into any era for one day, which era would it be? How would you spend the day?
I'm fascinated by the 50's. It seemed to be so restrained, but I'm pretty sure there was lots of kinky business going on behind the scenes! I would spend my time at a women's bridge night. I'm pretty sure that's where all of the whiskey was drank, secrets were slipped, and most of the town scandal went down!
What sets your business apart from other vintage retailers?
We buy and sell what we love and only stuff that is in excellent condition. If it wouldn't land in our house, we don't expect it to land in yours!
Could you share any photos of the items that you sell?
How do you go about acquiring or creating your pieces?
Oh boy. It's a mixed bag! We mostly get our goods from private sales. We have an amazing network of folks who invite us to private homes and sales around Ontario and a bit beyond. Relationships are key in this business.
Do you have any exciting plans for the future of your business?
Although we enjoy keeping things simple, we are looking at a more permanent space and we have a few events in mind! Our blog is the best place to keep up to date with us!
What do you draw inspiration from?
I remember watching an old black and white video of my grandmother, in her youth, and a few of her friends. They were laughing, playing cards, smoking cigarettes, and passing around a bottle of scotch. I remember thinking about how much fun that would have been and what a simple time that seemed to be! And they were all impeccably dressed. They were ladies with a story, and I liked that.
What are you most excited to show at The Vintage Marketplace in 2017?
Meeting new people and checking out the other vendors. I mean, we do love to shop ourselves 😉 !